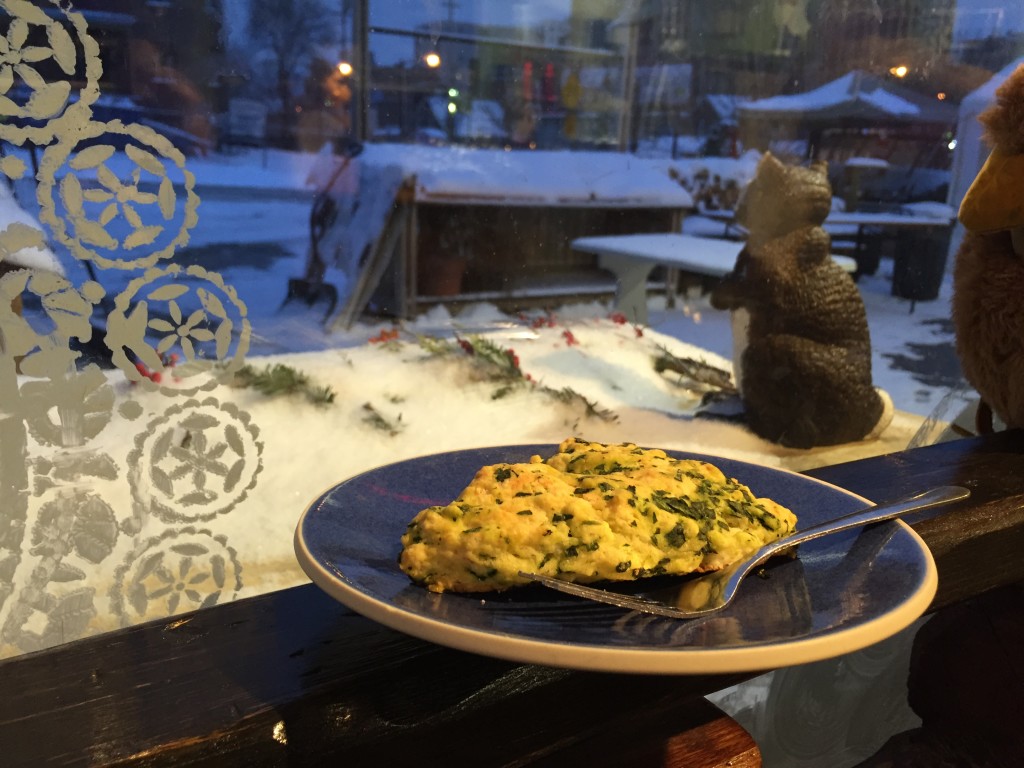 Cooking with fresh local ingredients is a true pleasure, so I was especially excited to join The Land Loom's Spinach Club this winter. Hannah Rose Weber farms at Tilian Farm, an incubator farm on the edge of Ann Arbor where new farmers can grow their farming business while defining and perfecting their farming practices. The Land Loom specializes in salad greens, and this winter, Hannah is growing hoop house spinach– that's right: growing fresh spinach in winter in Michigan! Not to be hyperbolic– this is the most beautiful spinach I've had the privilege of cooking with and eating. When I pick up my weekly spinach share, I find the clear plastic bag of spinach practically glowing with concentrated sunlight, and I can't wait to eat it!
At Why Not Pie, we frequently use spinach as one of the vegetables in our Breakfast Pies, available every day at Argus Farm Stop cafe. Breakfast Pies are a delicious way to sneak a little vegetable into your morning meal, and this spinach adds color, flavor, vitamins, and beauty to our Breakfast Pies!
Our newest recipe development using this healthy green is Spinach Feta Scones. These tasty scones are also available in the Argus Farm Stop cafe. Contrary to what you might have heard, scones aren't difficult to make, although like many baked goods, there are a few key techniques which, once mastered, can lead to more frequent baking success. For extra local deliciousness, I use local spinach from the Land Loom and local feta from Fluffy Bottoms Farm.
Feta and Spinach Scones
Ingredients:
2 eggs
1/2 cup milk
2 cups flour
1 tablespoon sugar
1 tablespoon baking powder
1/2 teaspoon salt
1/2 cup butter, chilled and cubed
2 cups fresh (or 1 cup frozen) chopped spinach
6 ounces feta, cubed
Method:
1. Beat the eggs in a small bowl. Stir in the milk.
2. In a large bowl, mix flour, sugar, baking powder and salt. Cut in the butter with a pastry cutter.
3. Add the wet ingredients to the dry ingredients. Stir just until combined. Stir in the spinach and feta.
4. Flour your hands and your work surface. Turn out the dough and kneed briefly. Form into a square about 8" by 8", and then cut into 8 triangles.
5. Place scones on a baking sheet lined with parchment paper. Brush with milk or cream.
6. Bake in a 350F oven for 20-25 minutes, until golden brown.
7. Enjoy a toasty scone immediately or cool completely before storing.