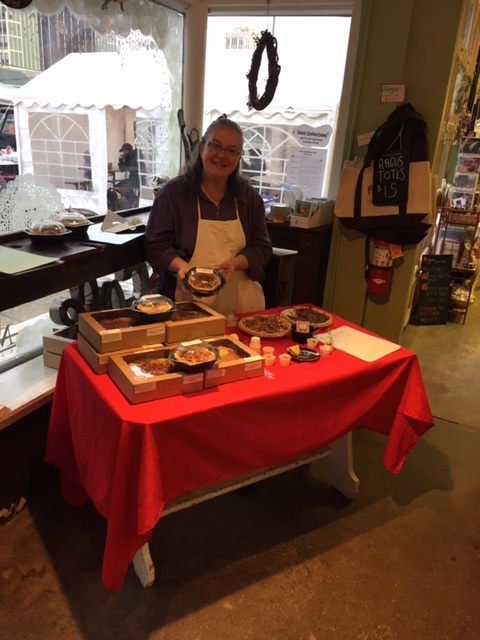 Did I see you at Argus Farm Stop this morning? I was there with Caramel Apple Pie and Chocolate Bourbon Pecan Pies for sampling, and I had the chance to meet a lot of pie lovers! Several people from the email list said hello and introduced themselves. It was great to put names and faces together. It was fun to spend some quality time talking about pies! I was asked questions like "What's your favorite pie?" and "What exactly is in a Michigan Mincemeat Pie?" so I had a wonderful morning!
I'm taking pre-orders for holiday pies through December 20th. I'll have pies ready for delivery or pickup on December 24, and special delivery or pickup times can also be scheduled. Pies are also available through Argus Farm Stop if you like to order there and coordinate with other pickups for the holiday.
Here are the Holiday 2015 choices:
Chocolate Bourbon Pecan Pie– Delightfully decadent. (Also available without bourbon!)

Midwest Mincemeat Pie– Homemade mincemeat made with raisins, currants, dried cherries, and apples steeped in bourbon and spices.

Cranberry Walnut Pie– A sweet, tart and crunchy combination.

Caramel Apple Pie– Features crunching topping and swirls of homemade caramel.

Pecan Pie– Delicious combination of nuts and sweetness.

Classic Pumpkin Pie– with locally grown pumpkin from Locavorious.
You can use the order link for questions or special requests or email me at janice @whynotpie.com.
I'm sure I'll be doing another pie sampling event at Argus Farm Stop again soon. Watch for updates in the newsletters and on the Facebook page.