Pie of the Week is a special recipe that Janice cooks up for one week only. Sometimes Pie of the Week is a holiday treat, like the Irish Apple Shortbread Pie, or features an extremely limited seasonal ingredient, like rhubarb or Saskatoon berries.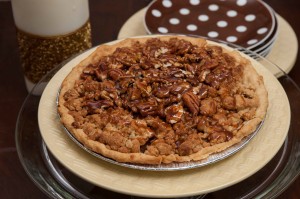 Caramel Apple Pie, photo by Diane and Doug Russell
Each week brings a different offering.  Please note that all pies are not always available!  Previous Pies of the Week have included:
Blueberry Lavender Pie – Sweet and fragrant, this is a sophisticated and unusual combination.
Fresh Raspberry Blueberry- both pretty and delicious
Caramel Apple Pie – topped with a crunchy layer of pecans, brown sugar and oats, and a swirl of homemade caramel
Cherry- Red Raspberry Pie – Sweet, tart and satisfying
More Berry Pie – Raspberries, strawberries, blueberries and blackberries
Apple Pie with Walnut Pastry – Brown sugar and ground walnuts flavor the crust
Orange – Cranberry Chess Pie – A variation on the Southern chess pie.  Custardy filling with fresh chopped cranberries.
Fresh Plum Pie – A very special occasion indeed
Fresh Blueberry Peach Crumb Pie – A happy, summery combination
Brown Sugar Blueberry Pie –  With brown sugar and lime for a new taste
Apple Cranberry Crumble Pie –  Sweet and delicious
Apple Pie with Cream Cheese Crust – A subtle and pleasant pie crust
Pumpkin Pie – Made with organic, home-grown pumpkin (in season)
Apple Cranberry with Sweet Almond Crust – Very special
Buttermilk Pie – A rich sweet treat
Fresh Peach Shortbread Pie – This special crust has earned some very devoted fans
Reduced Guilt Perfect Chocolate Pie –  Fantastically chocolatey & rich. Made with tofu!
Apple Pie with Oatmeal Crumb Topping – Another delicious variation
Honey Caramel Peach Pie – Honey deepens the flavor of peaches
Coconut Cream – Made with coconut milk
Rosy Apple Pie – A beautiful pie filled with apples and red raspberries
Pecan Pie – A delicious pie filled with pecans and an intense rich custard
Chocolate Bourbon Pecan Pie – Simply incredible
Snickerdoodle Pie– The classic cinnamon sugar cookie in pie form
Red Berry Crumb Pie – Combines fresh strawberries with cherries and red raspberries
Fresh Strawberry Pie with Lemon Pastry Crust – A special treat in season

Red Raspberry Pie- A Michigan favorite
Brown Sugar Chess Pie – Made from an Amish recipe
Ozark Apple Pie – More like a cake than "Mom's Apple Pie"
Raisin Pie – My Aunt Della's favorite
Chocolate Chip Pie – Imagine a Toll House® cookie with pastry crust
Tartes au Pignons (Pine Nut Tart) –  a recipe our daughter brought back from a stay in France
Chocolate Chip / Peanut Butter Pie – Two great tastes…
Fresh Blueberry – A Michigan favorite
Irish Apple Shortbread Pie – with a crust of rich shortbread
If the Pie of the Week isn't to your fancy, Janice also makes her three Signature Pies each week.