Now that's it's April, we cannot help but stroll around the garden and look for plants coming up. This week on one of our quick walks, we were pleased to see the rhubarb making an appearance.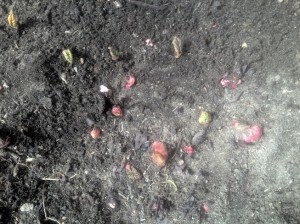 Rhubarb is a wonderful and amazing plant. Its sturdy stalks grow from rhizomes– short, thick (in this case) creeping rootstalks. Planting rhubarb ensures production for years to come. I learned from wikipedia that rhubarb is normally considered a vegetable, except in the United States where it was classified as a fruit to avoid the higher vegetable tariffs.
It's important characteristic to me is found in its nickname of "pie plant." The last few years have found me testing various rhubarb pies, including a "regular" rhubarb, a rhubarb custard (with a single egg added) and the popular strawberry-rhubarb pie.
I'll certainly bake some of those recipes again this season, but I have other plans for rhubarb too. I'm looking forward to baking rhubarb kuchen, blueberry-rhubarb, and rhubarb with candied ginger.
I've got the inspiration, and I'm working on the recipes. All I need now is for the rhubarb stalks to make reach glorious full-size.